Following Influential Hijabi Bloggers 2020
With the widespread of hijab fashion, the hijabi blogosphere has exploded. Modesty as a movement is getting popular and making huge strides in helping women of all style aesthetics to find innovative and creative ways to express themselves within the guidelines of hijab.
A few years ago, representation of Muslim women in the beauty and fashion world was less. Today, however, with the versatility and reach that various online platforms such as Instagram, Youtube, and Snapchat provide, a diversity of hijabi online bloggers and influencers can be seen. With so many Muslim women seeking more relevant choices on how to represent their true selves, more and more hijabi style icons are leading the way.
Hijab fashion has become a trend now, and we cannot ignore the influencers and bloggers who are changing the face of modest fashion.
So here is a list of best hijab fashion bloggers to follow.
Saufeeya Goodson
She is one of the leading influencers taking over instagram. This Dubai-based fashion and beauty blogger is part American and part Moroccan, with an instagram profile worth going through. She is the mastermind behind @hijabfashion on instagram.
The outfits worn by Saufeeya Goodson are inspirational pieces and you can surely get clues on how to style your outfits with a hijab. Her looks infuse bold details with staples like coats and trousers for a vibe that feels polished and very creative.
Instagram: @saufeeya
Leena
She is a Texas-based lifestyle and fashion blogger. The way she pairs ladylike styles like lace and ruffles with edgy details like ripped jeans or boots is just classic yet cool. Leena loves sharing modest fashion inspiration, health and beauty tips, her worldly travels, and real life experiences.
She also loves to share information about her hijabs and hijab stores from which she buys them. She hopes to inspire Muslim women and show the world that they are capable of anything.
She has an outstanding lifestyle blog. It is worth to check out at www.withloveleena.com.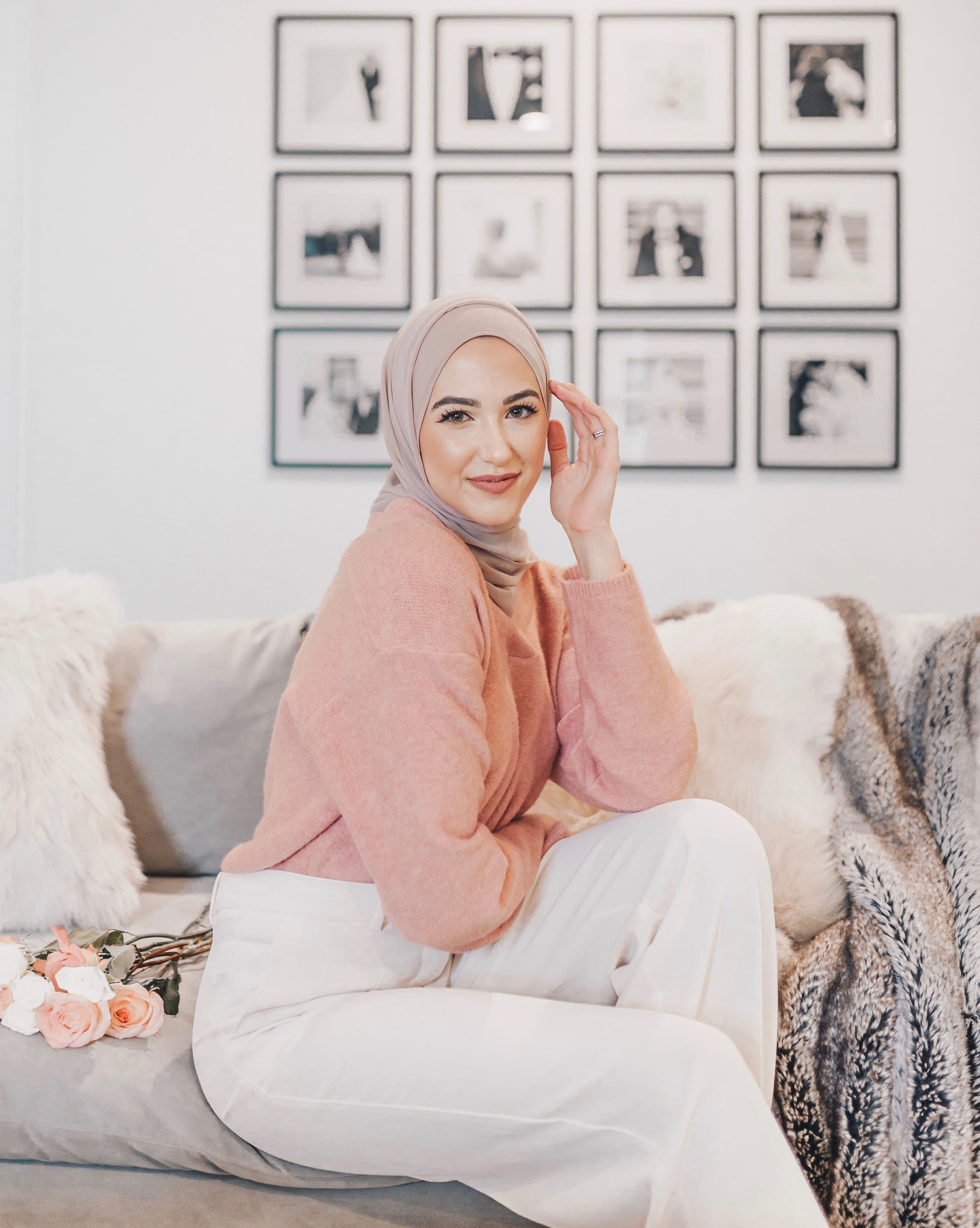 Habiba da Silva
Habiba da Silva describes herself as an international influencer and we couldn't agree more. She is based in the United Kingdom with over a million followers on social media. Well known for her videos on beauty, fashion, and relatable subjects, she has launched her first business venture, which aims to represent her love for diversity.
She has an online hijab store and in a recent interview she said that she wishes to take her brand a step further by widening her business.
She has collaborated with partners in many countries such as Malaysia, Dubai, Turkey, Lebanon, Nigeria, and Canada, and frequently travels to collaborate with brands and established businesses.
Follow her on Instagram at @habibadasilva.
Shop the Best Jersey Hijab Online
Ascia al Faraj
She is a Kuwait-based blogger who loves to pair maxi silhouettes in edgy fabrics like leather, to create a unique spin on simple silhouettes.
Ascia al Faraj is also one of the region's early influencers to make it big internationally and become popular at European fashion weeks, and a star of digital campaigns by luxury labels. She was also one of the first to use social media to promote positive and stylish images of hijabs in a post 9/11 era. She has collaborated with brands like Chanel, Aigner, Kenzo, and more.
Follow her on Instagram at @ascia.
Dina Torkia
Dina Torkia, almost 10 years ago, bought a sewing machine as a 19-year-old Muslim girl growing up in Wales and working in a call center - and started blogging.
"I was frustrated by the lack of clothing options out there on the high street for women like me." - Dina Torkia
She went on Facebook, offering styling tips and ideas, accruing such an audience that she was persuaded to move to YouTube. Her audience wanted her to make videos on cool and trendy ways to wear a hijab. This has now grown into a website and an Instagram page that has earned her a global following of more than 2 million people.
Dina doesn't shy away from statement pieces and embracing a wide array of rich colors, intricate textures, and unique silhouettes. She now works with big brands like Tom Ford, YSL Beauty, Revlon, and H&M. She is indeed the right inspiration for you to style hijabs from any hijab store with various outfits.
Follow her on Instagram at @dinatokio and you can also check out her lifestyleblog at www.dinatokio.com.
Mariah Adrissi
Mariah is a British Muslim model who owns almost 100 hijabs and wishes to change the fashion industry while inspiring others. For her, hijab is as important as her shoes, jewelry, and makeup.
Around 4 years ago, Mariah Adrissi was the first woman to feature in a mainstream fashion campaign wearing a hijab. She was born in London and brought up by her mother, an accountant from Pakistan, and a Moroccon father, a chef in a private member's club.
She initially stepped into the spotlight as H&M's first hijabi model. With turban style hijabs, statement boots and menswear inspired pieces, her looks are cool and polished.
Follow her on Instagram at @mariahidrissi.
Amena Khan
She is a UK-based blogger who is popular for her extensive YouTube hijab tutorials. Amena's style is edgy and modern to the hilt, with fierce all black looks, athleisure influences, and unique textures, from leather to quilting to fur.
Amena Khan is best known for founding the fashion company and hijab store known as Pearl Daisy. She became the first hijabi model in a L'oreal hair care campaign.
Check out her Instagram at @amenakhan.
Shop this Hijab
That's it for now...
Fashion blogs are relatable, self-curated versions of fashion magazines. It is hard to relate with models and actresses but fashion bloggers are self-identified and people can relate to their accessible lifestyle.
Without being at the mercy of advertisers to shape your voice, bloggers have a much more personal and unfiltered opinion that they love to share with their audience. With reading fashion blogs, you can stay updated about the latest trends that can be followed.
These hijabi bloggers are making their mark in the fashion industry and want to bring out the best of hijab trends for women. They will inspire you on how to match both casual and glamorous hijabs from any hijab store with trendy outfits, to steal the limelight wherever you go. So go check their blogs, visit a hijab store, buy lots of hijabs, get inspired, and be ready to rock your next party with a trendy outfit and an elegant hijab.